Crowns and bridges are a long-standing part of restorative dentistry. Offered by your dentist in Mesa, AZ, Dr. Julee Weidner, at Dental Care of Mesa, these prosthetics bring smiles back to full function and natural aesthetics. Read how crowns protect damaged teeth and how bridges span gaps created by extraction. A crown or crown and bridge prosthesis may be just what you need for a great, healthy smile.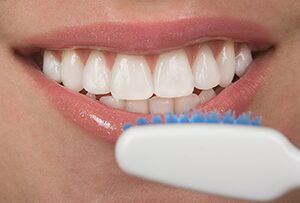 What is a dental crown?
A dental crown is a tooth-shaped cap which covers and supports a tooth damaged by decay, oral trauma, congenital malformation or other factors. A wonderful alternative to extraction, a crown allows the natural roots and much of the healthy tooth structure to remain, avoiding bone loss, gum recession, and aesthetic issues common to tooth loss.
Your Mesa, AZ, dentist will carefully evaluate your tooth to determine it's exact problem and if it can be saved. Some deeply fractured or abscessed teeth need root canal therapy first before placing a crown as the final restoration. Others do well with removal of old filling material and decay as the doctor carefully shapes the enamel to receive the crown.
Also, she takes oral impressions to give the dental lab necessary information for fabrication of the all-porcelain, porcelain fused to metal, composite resin or zirconia crown. Dentist and patient discuss the choice of materials ahead of time. Dr. Weidner protects the prepared tooth with a temporary cap or filling while the patient waits for the permanent crown.
Typically, crown procedures are comfortable, requiring no more than locally injected anesthetic (and sometimes not even that).When the patient returns to Dental Care of Mesa for crown placement, the dentist removes the temporary restoration and bonds the new one in place. In addition, she ensures the fit and bite are perfect.
What are bridges?
Fixed bridgework replaces one, two or more teeth in a row. Customized artificial teeth, or pontics, span the smile gap and attach to natural teeth via dental crowns. To anchor the bridge, the natural neighboring teeth, called abutments, must be reduced in size to accommodate the crowns.
Bridgework requires oral impressions just as crowns do, and the dental lab matches the shape, size and color of the prosthetic teeth and crowns to the patient's unrestored teeth. In other words, bridgework looks natural, and it lasts for 10 years or longer with routine oral hygiene at home and at Dental Care of Mesa.
Bridgework is very common. In fact, the American College of Prosthodontists says that most people in the United States experience some degree of tooth loss in their lifetimes, and bridgework is a tried and true way to recreate smile aesthetics and oral function. Additionally, some bridgework may be supported with dental implants for optimal stability and preservation of the jaw bone.
Interested?
To preserve a damaged tooth or to span a smile gap, explore crowns and bridges with your Mesa, AZ, dentist, Dr. Julee Weidner. Call for a consultation at (480) 290-7777.