What your dentist in Mesa wants you to know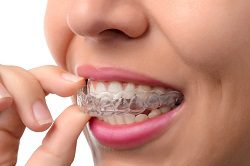 You've probably heard about Invisalign, the virtually invisible way to straighten your smile. Now you're probably wondering what makes Invisalign so special. The truth is Invisalign offers many advantages that can't be matched using conventional brackets and wires. Dr. Julee Weidner at Dental Care of Mesa in Mesa, AZ, wants to share the many advantages of Invisalign and what it can do for your smile.
When you choose Invisalign, get ready for a wonderful treatment experience because Invisalign is:
Discreet; Invisalign appliances are made of clear plastic, so when you wear them, they are virtually invisible to people around you
Comfortable; Invisalign appliances are smooth, comfortable plastic so you won't have to worry about sharp parts poking into your cheeks, lips, or tongue
Fast; the entire Invisalign process takes only 9 to 15 months, compared to years with conventional brackets and wires
Convenient; you can remove the Invisalign appliances when you brush, floss or eat so you won't have to worry about using cumbersome flossing tools or getting food caught in your braces
There is one advantage that makes Invisalign similar to brackets and wires. Invisalign is strong enough to handle many of the same orthodontic issues as conventional braces. Invisalign can correct:
Overbite or underbite
Crossbite or open bite
Gapped or overlapped teeth
Poorly-aligned or crowded teeth
Your dentist will start you out with Invisalign by providing a first set of appliances, called aligners. You will wear the first set of aligners for 2 weeks, and then move up to another set of aligners, which you wear for another 2 weeks. At 2 week intervals, you progress to a new set of aligners as your teeth gradually and comfortably move. Your completed treatment typically takes between 9 and 15 months.
For more detailed information about revolutionary Invisalign orthodontic treatment, please visit the Invisalign page on the website at https://www.smilemesa.com/invisalign.html
You deserve to have a great, straight smile and Invisalign can help you achieve it! To find out more about Invisalign and other restorative and cosmetic dental services, call Dr. Weidner at Dental Care of Mesa in Mesa, AZ, today!