There are many things that make the perfect smile, from well-aligned teeth to having a full set, but if there is one thing that will really make your teeth look stunning, it is, of course, having a great set of pearly whites. In this post, we are going to be looking at how you can get whiter teeth with the process of teeth whitening, and we will also be taking a look at what causes your teeth to discolor in the first place.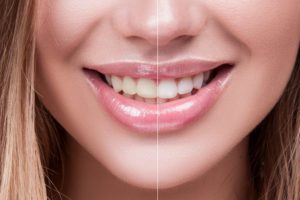 What is Teeth Whitening?
Well, without the want of sounding patronizing, teeth whitening is simply a process that whitens teeth and helps to remove stains and any discoloration. When it comes to dental procedures, teeth whitening is up there with the most popular. The process is the most popular as it's a pretty painless process, and it also gives a quick and impressive aesthetic improvement to teeth. Teeth whitening is a service that is now provided by pretty much all dentists, and one of the best practices for this in Mesa, Arizona, is Dental Care of Mesa.
What It's Used For
In this section, we are going to try to understand the ins and outs of what causes teeth to discolor and get to know why we may need teeth whitening. Teeth whitening is used to treat the outer layer of the tooth, otherwise known as the enamel. When we see the natural color of teeth, it is created by the reflection of light off the enamel of the teeth in combination with the dentin beneath it. The thickness and smoothness of your enamel is, unfortunately, something you cannot do anything about as it's determined by your genes. 
Through everyday life, a thin layer forms on top of the enamel, and this layer collects stains as you eat and drink. What you may not realize is that tooth enamel also has pores that hold stains. Three of the most common things that cause discolored teeth are:
Smoking

Drinking coffee, tea, and red wine

Poor oral hygiene.
Types Of Teeth Whitening
There are two main types of whitening that happen at the dental surgery, and the more skilled and attentive the dentist, the better your result will be. The most common form of whitening is known as vital whitening. Vital whitening uses a gel that is directly applied to the surface of the tooth. The gel usually contains some level of hydrogen peroxide, and having it done at a dentist can take anywhere between 30 and 90 minutes. It is important when undergoing a whitening procedure to find a trusted and reputable dentist. If you live in Mesa, Arizona, Dental Care of Mesa is one of the most trusted practices around for all forms of dentistry and orthodontics. Dental Care of Mesa has been taking care of the dental requirements of families in Mesa and the surrounding areas for many years, so if you are in search of a whiter smile in Mesa, you know where to go.