Teeth Whitening Services in Mesa, AZ
Do you have coffee-stained teeth? Well, you can get rid of the signs of your coffee habit for good. Professional teeth whitening will give you a whiter, more beautiful smile. Dental Care of Mesa in Mesa, AZ offers state-of-the-art teeth whitening treatments. Dr. Julee Weidner is one of the best dentists in Mesa, AZ.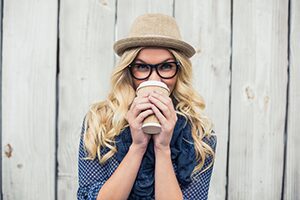 How Coffee Stains Teeth
The outer layer of your teeth can become stained by the pigments that are found in your cup of coffee. Although tooth enamel is the hardest substance in the body, it is not smooth and flat. The enamel on your teeth contains microscopic ridges and cracks that can hold particles of beverages and foods.
Your teeth are covered with a delicate layer of white enamel that's prone to staining. Pigments from dark-colored beverages such as tea, cola, red wine and coffee become embedded in those ridges and pits, and permanent, yellow stains on your choppers.
Take-Home Teeth Whitening
Take-home teeth whitening kits involve custom-made trays filled with a bleaching gel that you can use at home. Because your dentist supervises the procedure, a stronger bleaching gel can be used, compared to the over-the-counter kits. Bleaching gels used by dentists usually have a 30% to 40% concentration of hydrogen peroxide.
In-Office Teeth Whitening
For professional in-office bleaching, your Mesa, AZ dentist will combine a bleaching gel with a light to speed up the whitening process. A visit usually takes 60 minutes. A single teeth whitening session will turn your stained choppers into brighter, dazzling ones. One professional whitening session will also make your teeth about eight shades lighter.
Say goodbye to those unsightly teeth stains for good. Call Dental Care of Mesa in Mesa, AZ at (480) 290-7777 today and schedule a teeth whitening appointment. Professional teeth whitening will give you the beautiful smile you've dreamed of.