If you live in Mesa, Arizona, and you are looking for a solution to fix a broken smile, you may have considered dental crowns. As far as common dental procedures go, crown restorations are one of the most common. Everyday people all over the United States have crowns placed to fix a wide range of tooth problems.
In this post, we are going to hopefully explain in a little more detail what dental crowns are, why they are great, and possibly make you feel a little more comfortable about going to have dental crowns fitted yourself.
What Are Dental Crowns?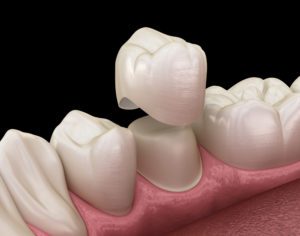 Well, the most logical place to start is probably by explaining what a dental crown is. Put simply; dental crowns are prosthetic restorations that are created to help restore a damaged tooth back to its former glory. If you have a tooth that has cracked or undergone extensive decay, then a dental crown can be cemented permanently onto the affected area. From time to time, the crown will extend to the root surface of the tooth, but generally, a crown will only replace the outer portion of the tooth. When the crowns are fixed, the crown will fully cover the damaged tooth, and they are custom made for each individual tooth. The most common types of crowns are made from porcelain, metal, gold, resin, and ceramic.
How Are Dental Crowns Used?
When we look at the use of dental crowns, most people will presume they are fitted for aesthetic purposes, and while, of course, this is a great use for crowns, they are far more useful than just looking great. Dental crowns fit over the top of a tooth, and their primary role is to protect the tooth that sits underneath the crown. The crown, once cemented in place, will act and function as the original tooth did, but it will also protect the original tooth and prevent it from breaking apart. Crowns are crafted from highly durable materials, and they are created to endure the same levels of trauma as your other teeth generally would. When thinking of a crown, imagine the function of steel toe capped boots and how it protects your toes.
What Now?
Well, if you have a few damaged, cracked, or decayed teeth that you need addressing, then maybe a dental crown or two could be the solution you have been looking for. As with all dental procedures, you should carefully select your dentist and find one that has a wealth of experience in all forms of cosmetic dentistry. Dental Care of Mesa is one of the most reputable dental practices in Mesa, Arizona, and can offer dental crowns and so much more.
Dental Care of Mesa has years of experience with all forms of dentistry, and we are renowned for our patient-first attitude. So if you are looking to get back that perfect smile and you live in Mesa or the surrounding areas, get in touch today.