Find out if this clear system could help you fix your crooked smile.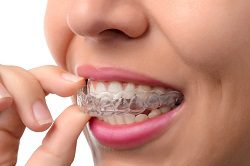 Are you an adult who desperately wants a straighter smile but has a hard time coming to terms with the fact that you will need braces in order to do it? Our Mesa, AZ, dentist Dr. Julee Weidner understands that getting orthodontic treatment later in life isn't always ideal, but with the help of advanced and more discreet options like Invisalign, people don't even have to know that you are wearing braces!
What is Invisalign?
Invisalign has been around for about two decades, so chances are pretty good that you've heard about this clear orthodontic system by now. Of course, you might not know everything about how it works. In the past, the only way to straighten teeth was with metal braces. Now, Invisalign offers a clear solution to shift teeth into their ideal position.
What goes into getting Invisalign?
The first step is to make sure that you are right for this orthodontic treatment. In order to do this, you will need to come into our Mesa office for a consultation. There, we will examine your mouth and discuss your goals for treatment and determine whether Invisalign will be the most effective option.
A good candidate for Invisalign will be an older teen or adult who is dealing with common malocclusions such as,
Crooked teeth
Crowding
Gaps between teeth
Overbites
Underbites
Crossbites
Open bites
If you are dealing with one of the problems listed above then Invisalign might be right for you!
Once we have deemed you an ideal candidate for Invisalign the next step is to take images of your mouth. These images are then uploaded onto the computer where we will map out every precise shift and movement of your teeth throughout the course of your treatment.
This information is then sent to a dental lab where they will create custom-made transparent aligners that will fit over an entire row of teeth to apply the right amount of pressure to gradually and safely move them. The length of your treatment will depend on the type and severity of the malocclusion you are wishing to treat. Of course, you will need to wear your aligners for about 20-22 hours each day in order to see the optimal results.
Call Today!
Does Invisalign sound like the orthodontic treatment you've been looking for? If so, then it's time to call Dental Care of Mesa at (480) 290-7777 to schedule a consultation! Remember, it's never too late to get a straight smile.